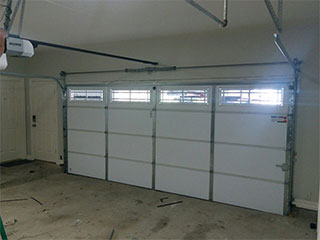 Over time, garage door openers can be susceptible to wear and tear. Common problems include motor gear replacement and safety sensor misalignment. Our experts can help with all kinds of opener malfunctions and ensure every part of your garage door system works like new again.
Sometimes it becomes necessary to replace your door opener. However faced with a wide range of choices, it's normal to feel overwhelmed when trying to decide which one to go for. The safest way to ensure you pick one that meets your needs is to call us - we'll talk to you about your priorities and ensure you pick a unit that works for you.
Door Weight Matters
One thing to consider when buying a new unit is the weight of your door. You need to ensure your opener is strong enough to lift your new door. If you buy a one that's incapable of producing the necessary horsepower output, it might struggle, and suffer from an unexpected breakdown.
If you've recently purchased a new opener which doesn't seem to be working, this could very well be due to a compatibility issue. Give our team a call to diagnose the issue and give perform any necessary replacement or repairs.
Noisy Door Opener
If your current opener is too loud, it might be time to consider a quieter one. If your garage is located close to to your bedrooms or attached to the kitchen, we definitely recommend investigating the quieter range of garage door openers on the market. We can help you find one that won't interrupt your day.
If your door has recently become much noisier, it may be that repairs are needed. A loud opener motor can indicate ageing – our experts will let you know what's normal and give you their replacement recommendations. Sometimes simply replacing the worn motor gear can be enough to restore your opener's silent performance.
Consider Budget & Requirements
You should consider your budget and needs when looking to get a new garage door opener or upgrades. Many openers come with different additional features, such as WiFi compatibility – we'll help you decide what you need for your property and lifestyle so you can make an informed decision.
Whether you're experiencing trouble with your door opener or need a new one, we can help. Call our experts at Garage Door Repair Bronx today.
Need more? We also provide:
Garage Door Troubleshooting Services
Opener Sensor Replacement
Garage Door Extension Spring Installation
Overhead Door Installation